Hi Folks,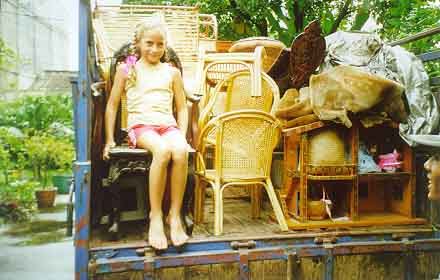 Laura moves doll house and furniture
This is already the third issue of the KLM cyber letter, and still from Phnom Penh. We are here now already more than five years and some friends visited us here, tired of desperately hoping for new destinations, in Cambodia for a second time. Although we most likely will transfer to another country soon, we moved house one more time. We got fed up by the previous house. The garden was very nice, but the house itself became more and more dilapidated and Minke was more and more annoyed by the garbage dump at the corner of the street. Our new house is much better and bigger and more luxurious and on the other side of town. Also the garbage heaps are bigger, but further away.
| | |
| --- | --- |
| | |
| This is our new house seen from the garden.. | ...and the garden seen from the terace... |
| | |
| ...with decorative oxcart. | The living, |
| | |
| the dining room, table top made from one piece of wood | and one of the bathrooms. |
The houses are not as closely built here, but it is located further away from the "centre" of town. The most important reason for moving was the daily long travel time from home to school for Minke and Laura. Surprisingly however, it seems Kees gains the most in shortened daily commuting time, not in the least because the daily return trip home no more follows the river, and therefore is no more passing the terraces with tempting cool beer. Is this an improvement, we wonder.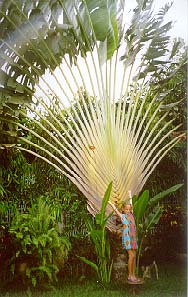 And the pride of the garden, a fan palmtree.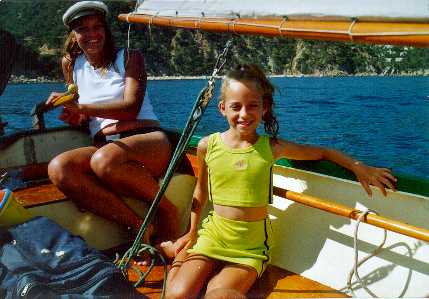 Minke steers casually our yacht back from our favourite beach to our apartment, a few sea miles to the south. Laura, here fashion consciously dressed in Osh Kosh attire, fabricated an ingenious speedometer that indicated we were making four knots at that moment.
This summer holiday in our apartment in Spain was again very nice, also because the weather, this year in Spain very fine, was more sail friendly than previous years. The combination "yes wind-no waves" is a rare one at the Costa Brava, but for Minke a prerequisite for enjoying our "Roode Draeck".
Kees went ahead with the E-type to ready the house and to relax by doing simple manual labour in the apartment such as white washing, painting, tiling and varnishing the boat. The womenfolk flew in some weeks later and could with some effort be shoehorned in the E-type. No problems of harassing traffic police in Spain.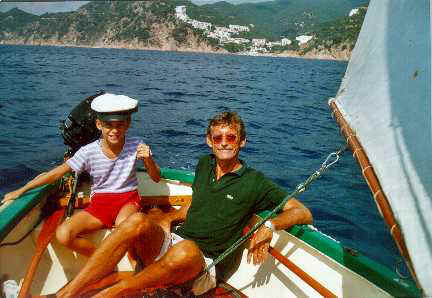 To navigate the Roode Draeck (The Red Dragon) is a piece of cake. We are almost the only sailboat in our bay (on the background) and the outboard motor is almost never used, only with annoying head wind. Who happens to wear the cap is the captain and is the boss on board.
Kees enjoyed this summer a longer break from his UNICEF duties than previous years. The job satisfaction suffered because of the streetfighters attitude, coupled to professional weaknesses, of a that time supervisor and, more importantly, the health situation of my dad, (90 years and still alive but not so kickin' anymore), made me to spend more time in the Netherlands. But I prove to be a family member of a tough breed and Dad, although only a shadow of his earlier energetic self and bedridden all day,is slowly emerging again a little from the fogs of dementia of a half year ago. He is anyway as grumpy as before, like also his denial of his ever more deteriorating hearing problem and that doesn't make the conversations with him much entertaining or philosophical either.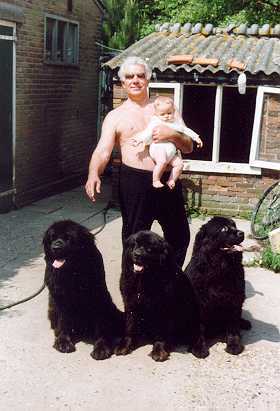 This is how we will remember Opa. Laura is not so sure about these puppies, but fortunately Opa is big and strong. The year is 1992.
The health of Minke's father on the other hand declined incurably more and more and to our great sorrow Chris died in September. Not yet so very old, and he thought himself also that wasn't really fair. Minke left for the Netherlands when her father was in the hospital and returned after the cremation again to Cambodia. Kees and Laura performed in Phnom Penh a little ceremony with flowers to say goodbye to Opa of Oma.
Although geographically the distances are very big. we always maintained close contact with the grandparental homes and have had a reasonable number of "quality contact hours", but of course compressed in a few weeks of annual leave. Still it is unpleasant in these situations of finality of the lives of grandparents to be so far apart.
Minke is continuing her teaching career and is now in her fourth year of teaching Kindergarten at Northbridge International School. It is this year a very dynamic year at the school, because after many years of only barely surviving, the number of enrolled students made a enormous growth spurt this year. The atmosphere at school is good and positive. Laura has an excellent teacher and is doing a lot of after-school activities. On Saturday morning she plays soccer and she has just started guitar lessons (at last Kees' Spanish guitar will come to some use). Also she is doing dancing, Dutch School and tennis. Next to the school is a Club with swimming pool, restaurant and many sport facilities. Laura feels very at home in Cambodia and it will not be easy for her to say goodbye and get used to a new country.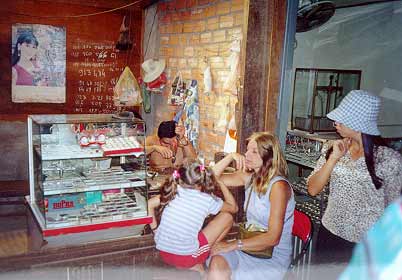 The goldsmith on the market is busy with his sophisticated equipment to set the diamants of Grandpa of the little Ducks in a necklace.
In November Minke's sister with husband and baby visited us in Cambodia and next week one of Minke's best friends from the Netherlands will visit us for three weeks. We will go a week to Laos together and celebrate second Christmas day (yes, we Dutch have a second Christmas day) in Luang Prabang. We have been there before and were very impressed by the tranquility, the beautiful temples, and the terraces with fairy tale sunsets along the river. Minke's brother also has plans to come this way soon, joined by spouse and Minke's mother. Through these frequent visits and our annual "home-leave", we maintain a strong tie with friends and family, even after 12 years overseas. Even more, we made during these years many more friends living in many different countries in the world.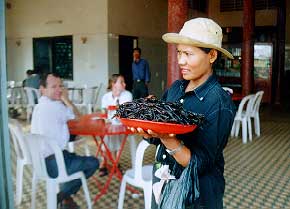 The delicacy in Cambodia: fried tarantula
These friendships are very important for us. Often we meet again after years and it is as if we have just seen each other last week. It is very special that we know that friends get in the car to see or meet us where ever we are in the Netherlands, that we are always welcome for a dinner of stay overnight and that Laura also in the Netherlands has some very good friends where she feels at home.
We wish everybody a very happy new year 2002 and will toast with a glass champagne on our friendship of many years.
Kees, Minke en Laura