Our eighth year in Bangkok is already well advanced, and in the past two years many things happened.
In 2008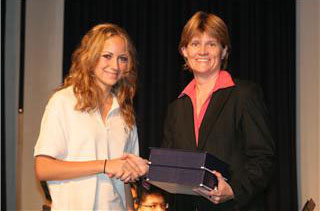 Laura got her IGCSE diploma with excellent scores, while at the same time raking in the awards, right on the photo even two in one go. Laura is continuing now to sit for her IB (International Baccalaureate) in 2010. With this in hand the academic world will be her next challenge. It is hard work to complete all papers, essays and projects. And in between also finding time to clean the coral reefs or taking orphans for a day out. Comparing the IB curriculum with his gymnasium education of forty year ago, Kees thinks the level is pretty high, and at least no intellect is wasted on Latin and Greek.
Kees took early retirement in 2008. UNICEF is reoganizing its Regional Offices and Kees' post was redefined. To make a long story short, Kees continued for a few months longer than planned to be eligible for an "indemnity package" (= money!). Not the really the raking in the big bucks known from the financial world, but that is not what you work for with UNICEF anyway.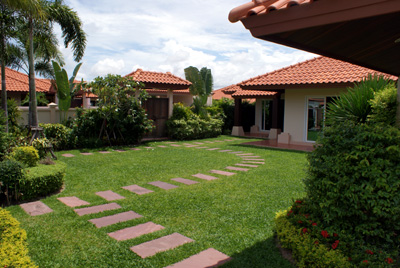 We bought a house in Thailand. A couple of kilometers South of Pattaya in a walled "MooBaan" in Na Jomtien. The addres is on the Home Page. It is on walking distance from the beach and it is a so called second hand house. The previous owner built it and paid much attention to building quality and the lay-out of house and garden, and the result is a house we would have built ourselves if we had had the opportunity. We are very happy with the new place. The garden is just big enough and could be managed without a gardener. The pool is big enough to make some laps, not big ones, but still. The future plan is to spend the summers in Europe and the winters in our home in Thailand and in this way benefit of the best of both climates. Laura inaugurated the house by celebrating her 18th birthday with a sleep-over party where 23 friends found a place to sleep without problem.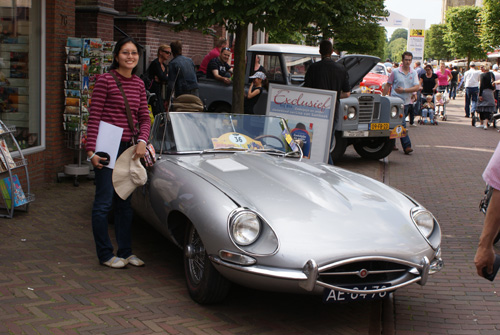 In the summer of 2009 Kees spent some more time in the Netherlands and Spain and enjoyed both his Jaguars. Several "Classic Car" events were participated in with as highlights the 11 city tour (following the tracks of the 200 kilometer ice skating race in Friesland) of the Jaguar Daimler Club Holland with my friend Anton as navigator, and secondly the Vroem rally with Khun Tuk (a colleague of Kees at UNICEF who happened to study for her Masters in Groningen, on the pic next to the E-type in Joure) as navigatrice. More details on two- and four wheelers o the autobiografie.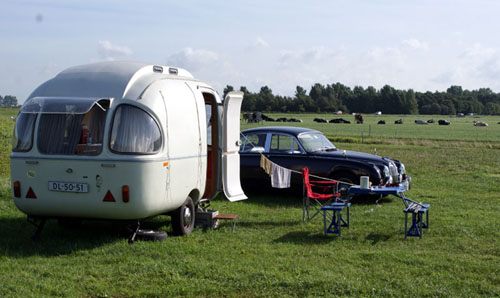 This summer we plan to travel with the Jaguar Mk2 and the cute little caravan way up north, direction North Pole and for the first time in decades will not spend the summer in Spain.
Minke is now in the middle of her seventh year in St. Andrews School. This year she works again in Nursery with the youngest kids. The past two years were very pleasant with nice colleagues and a professional and nice director. This will be her last year at this school and it is difficult to realize that in six months time she will never have to make the u-turn on the Sri Nakarin Road again.
The plan is to stay a bit longer in the Netherlands this summer and to be around in the first couple of months when Laura for the first time in her life is going to live in the Netherlands and to study, most likely in Maastricht. After that period Minke will investigate the possibilities to find another job in the neighbourhood of our new house in Thailand.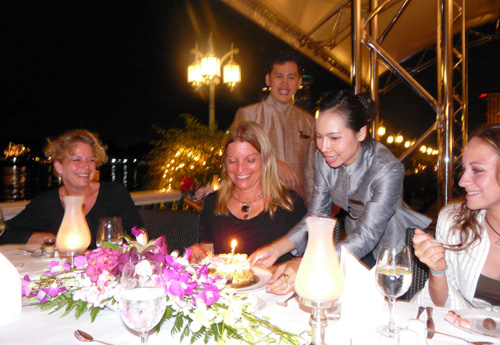 We celebrated the 80th birthday of Minke's mother with a "surprise exhibition" of most of her paintings in her own garden so full of summertime flowers in Warmenhuizen. Minke's 50th birthday was celebrated in Bangkok with a brunch for friends and colleagues in the morning and a dinner in the Oriental Hotel where to Minke's great surprise her mother, brother Peter and her sister Dorine were waiting for her with as present a bottle of 50 year old port wine. This Christmas Minke's mother came again to Thailand with banketstaaf en kerstbrood.
We are enjoying living in Thailand very much and appreciate in particular the street life, the markets and the Thai food. Our free time is often spent at the sailing club, but also do we venture out to touristic and less touristic destinations in the country side.
Our new house has plenty of place for guests and we hope you will come and visit us in the long winter months to soak up some sun and take a dip in our pool!
Kees, Minke and Laura
This page was last updated on 01/05/10.