Happy New Year 2012 from Kees, Minke en Laura
We were in Europe for longer than usual this year; first a few months to renew the kitchen in our apartment in Spain, and then we spent some time in the Netherlands to be closer to Laura. Kees has also started the project of renovating the
second motor
which is still in his possession from his student years.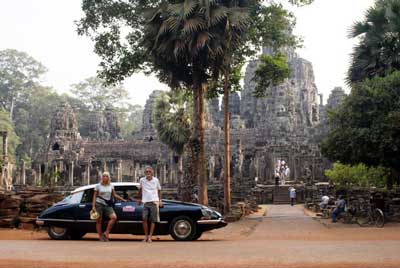 Minke, Kees en DS voor de Bayon
In February and March of 2011 Kees and Minke participated in the Tiger Rally with the old DS Citroën. We traveled through many countries which we still knew from before, traveling through Cambodia, Viet Nam, Laos and saw again Siem Reap, Phnom Penh, Saigon, Vientiane and Luang Prabang. The trip brought back many good memories and allowed for reunions with old friends, while on the other hand causing some nostalgia. Though in many aspects not much has changed, countries have moved forward and modernity resulted in things not being as we remembered them to be. The DS noticeably also had a nostalgic effect, as many older people of Indochina recognize it and wait for its magical elevation after turning on the engine.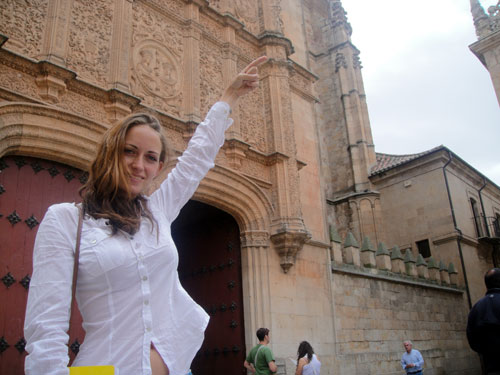 Laura met kikker bij een der oudste universiteiten van de wereld.
Laura has passed her first year at university comfortably, and attended a month long Spanish course in Salamanca this summer. As you can see she knows where the frog is located on the building, meaning that she was allowed her certificate. She is now continuing with her second year of her Bachelor in Sciences at the University College of Maastricht, and she will do the second (upcoming) semester as an exchange student at the University of Sydney.
Our house in Na Jomtien was still in a good state when we got back after the summer with the garden, the dog and the parakeets looking healthy as ever, Samak looked after them well. The floors and the door frames were in a lesser state, due to the termites which helped themselves. So we started our next project; we replaced all the laminate floors with beautiful and classier Thai marble, and the frames with better quality tropical hardwood. The part of Thailand in which our house is located was luckily not affected by the recent floods, as those which were suffered large scale economical, industrial and structural damage. Many Thai political parties have reacted by pointing fingers. The 'red shirts' have once again democratically won the elections with as their leader the younger better looking sister of Taksin, the former prime minister who is still exiled. This, in addition to a king who is getting increasingly old and ongoing problems in the Islamic south does not promise a completely stable political future for Thailand.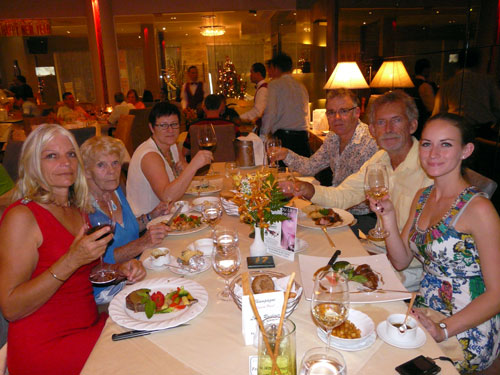 Kerstdiner
We are still enjoying all our free time in the fantastic Thailand with good food, kind people and a beautiful beach at walking distance. Minke swims every morning before breakfast in our pool, with views of the tropical garden and the many orchids and ferns. Kees has developed a watering system which provides all the plants with a little tropical rain shower in the morning and evening. Minke also regularly attends Yoga classes together with some friends from the compound. We celebrated Christmas with Minke's mother (turning 85 this year), her brother and his wife, and Laura and two friends she brought over from Maastricht. The new academic year in Sydney does not start till the end of February which allows Laura to stay with us in Thailand for two months, and we are enjoying being together as a family again.
2012 is an important year; Kees is turning 60 in February, Minke's, mother turns 85 in May, her brother Peter 50 in October and Laura is turning 21 in November. Everyone is healthy and full of plans for the future.
Our resolution for the new year is to stay in regular contact with our friends and family. We wish you a healthy and happy 2012!
11 January 2012