Hi Folks,this is our second cyber letter.
It seems we may have had our longest time in Cambodia. We have been living already in Phnom Penh for more than four years and UNICEF is pushing us to move to another country. This winter there will be a "rotation" exercise and Kees will be transferred to a country and city hopefully to our liking, but Kees is also contemplating the thought of requesting for a year leave without pay to take some distance from the UNICEF business and to be able to be a bit more frequent with his father.
We enjoy being in Phnom Penh, it is a pleasant place to live. Although our house is a bit untidy and while our neighbourhood is categorized as a squatter area, we like it very much, in particular our uniquely big garden with many huge trees with exotic fruit such as milk apples, jack fruit as big as basket balls, mango's, a big bamboo and flowering plants, the sweetly smelling honey suckle,(so you can smell you're home again). Plenty of space for Laura to play and enough room for Kees and Minke's collection of transportation media.
This summer again we couldn't see all our friends. Kees had less days of leave left available than the previous years, because already some leave was consumed in February when visiting his Dad, whose health took a sudden turn for the worse. Fortunately things have improved somewhat now, but his health remains precarious. The old tree could tip over with the next cold breeze. But maybe not, weed always survives as he uses to say. The stress in the family regarding the care for Dad and the handling of vacating his house and preparations for the inheritance took a lot of energy and time. We learned to know each other better, so to say, but we didn't get closer. Jerry Springer at home.
This winter we plan to go to the Netherlands for the first time in many years, Firstly to collect our money from the shop that promised to refund in 2000 all money paid for washing machines, refrigerators etc. we bought in a sales promotion when leaving for Bhutan in 1990, and also, Laura should experience Christmas the Dutch way with grandparents, with a tree and snow, so Laura would like to order lots of snow.
In the years we lived in Cambodia, the country changed a lot. The political situation is now stabilized and the economy is also catching up slowly. More and more people have television, more and more moto's cars are clogging the roads. Tourism is also increasing and more and more airlines are popping up like mushrooms to feed the demand for tourist transportation between Phnom Penh, Angkor Wat and Bangkok, Singapore and Hong Kong. This years water festival was very similar to last years, with one million visitors from the rural areas, but everything seemed a bit better organized with 400 boats competing. The crews only of all these boats accounted for 20,000 people! No more rural boys rowing like madmen dressed in unwashed rural rags. All teams now were apparently sponsored and had nice colour coded attire. I was informed to have a winning boat all depends on the tree the boat is made of.
As with many countries at the bottom of the economic ladder, garment factories and shoe factories are the main employers and allows thousands of people to make US$ 40 a months under often questionable working arrangements. That isn't much for one months of hard work with often many obligatory hours of unpaid overtime, but it is more than nothing, which they would get without those jobs. The labour costs per unit of garment, jeans or a shirt or a sport shoe is just a few dozens of dollar cents, items that are sold in Europe or the US for tens of dollars, if not hundreds of dollars. Much of the production is for famous brands such as GAP, Calvin Klein, Lacoste and Nike, lots of which ends up on the "Russian Market" here in Phnom Penh for a few dollars a piece, often with the shop price tag already attached. So we are always dressed in fashion of the next year, the stuff that will be in the shops half a year later. I can tell you that the summer fashion for men of 2001 will have shirts with dark coloured fabric in tiny checkers. And the sport shoes will be again more bizarre colourschemes and more complex in patchwork.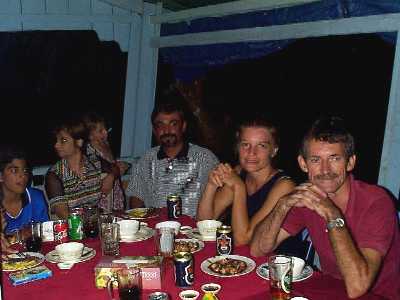 Whenever we have a long week-end off, we drive down to the beach, almost always near Sihanoukville. There are some nice hotels and restaurants there on the beach with delicious food. Here we are enjoying some plates of pepper shrimps with a Tiger beer. This combination on a warm tropical night at the beach facing the gulf of Thailand is on the top five list of best food ever.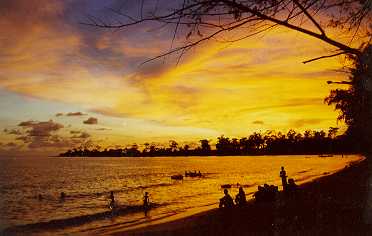 The sunsets can be very artificially and " kitsch' , but believe me, the colour were in reality even more orange, pink and purple than your screen can show.
This monsoon, it was raining a lot, in particular in the catchment area of the Mekong river in China and Laos. But we understand also in Europe rain and floods are daily fare this season. For weeks the Mekong was at a critically high level, but the riverbanks did not break, anyway not in Phnom Penh, elsewhere in the country people were not so lucky. In Phnom Penh only the lower parts were flooded, where the poorer people live. The level of the river is now rapidly going down and there is a strong current to the sea. Still huge areas of the country are flooded, though, which is a regular event in this delta country and all Cambodian houses are therefor built on stilts. The E for emergency in UNICEF did not help much as none of my colleagues had ever had experience with such kind of a disaster. Most of the emergency relief, bags of rice, cans of mackerel in tomato sauce and some iodated salt is distributed by the WFP. On a recent food distribution event for which we were invited to witness, we were showered with warm felt applause by the gathered rural folks as they mistook us for the WFP team. Never mind! The Red Cross contributed with the distribution of households kits and plastic sheets. If and when the water goes down, UNICEF will rehabilitate schools and water wells.
It is now eleven years ago that the World Summit for Children took place (my last victory in the Maldives was to have the president go to New York) and now poor Cambodia, that even wasn't present in New York that time, but did sign the convention, has to account for their actions during the last ten years and what progress has been made in the situation of children and women in Cambodia.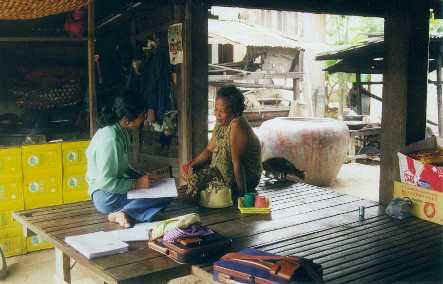 more than twelve thousand women are interviewed.
In September there will be a Special Session of the General Assembly of the United Nations, where our Kofi will report on what happened with all these nice Plans of Action for Children. .
And Cambodia has to contribute to that as well. In this context, a nationwide survey has been cosponsored by UNICEF to assess the infant and child mortality, maternal mortality, malnutrition of children and women, contraception, sexual behaviour, drinking water, sanitation, disabilities, vaccination, breastfeeding, diarrhea, respiratory infections, anemia, salt iodation, nightblindness, and now that we had the women's attention anyway, also knowledge and behaviour on AIDS, the position of the women in the households, domestic violence was added to the questionnaire. The preliminary report is just released and the situation is as we already thought: no good! ;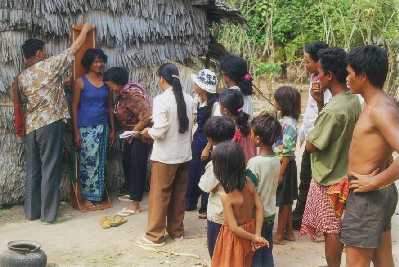 More than five thousand women are measured and weighted, which was often a major village event. Many women are too small and have too little weight, which is s risk factor during pregnancy and delivery.
It is disappointing the child mortality is not decreasing the last ten years, while the effect of AIDS is only getting some impact now and cannot have caused the lack of decline in the past ten years. The process and output indicators ( access to safe water, vaccination etc) are fine, but the impact indicators (mortality) don't improve. One in ten children dies before its first birthday, half is chronically malnourished, three quarters of women and children is anemic, 12 % iodine deficiency, a third of the kids is not in school. Except for polio, that has been eradicated! No matter how professional these surveys are done, still questions remain. .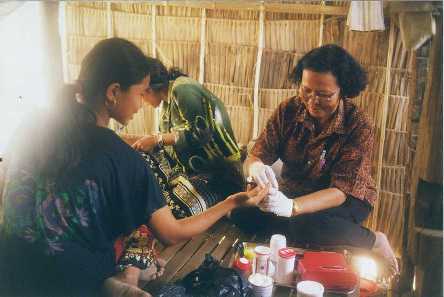 One drop of blood was taken from all women, to assess their anemia. The red gadget that looks like a PlayStation console, displays on a screen within a few seconds and on the spot, the level of iron in the drop of blood. A golden opportunity to assess the HIV status with a second drop of blood has been missed by wimpy political correctness!
Similar research is done in 1996 and a census was carried out in 1998 and still we don't know how many kids there are born every year in this country! It seems half of the youngest infants are missed at these surveys. This makes you doubt about the correctness of this kind of surveys and it doesn't help us in planning for vaccination or schooling if there is no reliable information about the numbers of kids to vaccinate or to build schools for.