This is Cyber Letter number seven, which follows number five, because we skipped last year number six. Busy busy busy, you know, but maybe also because not so much worthwhile happened last year. We are living now more than three years in Bangkok. The black dog is still a sweet one, but not particularly smart, the brown one remains the affectionate fatso, and the duck gets older and greyer all the time, and seems to suffer from rheumatoid arthritis but comes never-the-less every morning loudly quacking and begging for her mango breakfast. The hamster is no longer.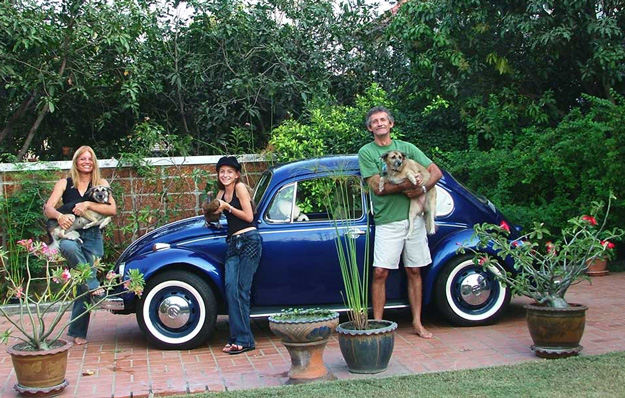 Last year Chrismas, on the very morning of the Tsunami, we bought this Electric Blue Beetle, now Minke's daily commute car. An excellent little set of wheels, with airco, newly upholstered furniture and a cool blue, new wall-to-wall carpet, and please note the white flaps around the wheel rims, very desirable for Beetle afficionado's. We joined the Classic Car Club Thailand and particiapted recently in the Loy Kratong event. Of course, Kees had preferred his E-type, but lacking that one, settled for joining his wife in her Beetle (Volk or also Rot Tao (turtle car), as the Thais say).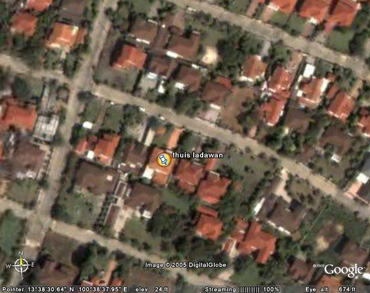 Here is our little Turtle parked in the garden of our house.
We live in very quiet, but huge compound just outside Bangkok, lots of birds in the garden and not too far from the International Schools were Laura and Minke are going to, to learn and to teach toddlers respectively. Not long after learning the Thai words for Mummy and Daddy, the Thai toddler learns the useful words Mai Au!, which means "not want!" and that is a frequent toddlers reply in Minke's class. The scarily detailed Google satellite picture shows that the Beetle is not parked at the moment of the snap shot on the bright orange patch in front of our house. Kees struggles every day with the Bangkok traffic, one hour going to and one hour returning from work, on a good day that is.
Kees works now almost 4 years at the Regional Office of Unicef and travels frequently in the region. Sometimes as adviser, but also often as trainer or facilitator (clock wise: Bangkok, Yangon, Vientiane and Port Moresby). The Regional Office was not involved very much in the Tsunami aftermath, and I myself had hardly anything to do with it, only recently a trip to Aceh to introduce the ins and outs of UNICEF programming and budgeting to the almost all newly recruited staff. We have not been bothered too much yet by the new UNICEF Executive Director, who has the unwelcome smell hanging around her of being one of the parachuted cronies of W, who have the reputation of being utterly incompetent. I have my suspicions that, before she got the top-job in UNICEF thrown at her, she never, ever had heard of UNICEF before in her whole life.
We are all three busy with work and school. But in our free time we often go to out for dinner to enjoy the good food, the friendly service and affordable prices in the Thai restaurants. Occasionally we go to events organised by the Dutch community, often to the cinema and for culture with a capital C to the Siam Society or, just some weeks ago,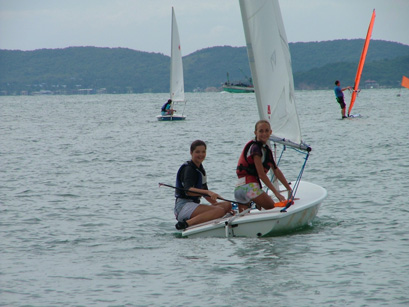 we enjoyed a big open air jazz concert with our own Heineken as the main sponsor.
Last year we joined the Royal Varuna Yacht Club in Pattaya and we go there often for the weekend to sail. Laura learned her sailing in an Optimist, but she now only sails a Laser. Kees and Minke only sail in Lasers, but are thinking they should of try a Hobby catamaran for a change. The Yacht Club is very race oriented, which is not really appealing to us. In spite of that, last week Kees found himself competing in a relay race where he managed to gain the leading position from third position thru smart tacking. Alas, in this comfortable place, he lost precious time by racing ahead to the entirely wrong next buoy, capsized on top of that and had to accept a dismal second place when reaching the beach again.
The Yacht Club is located on a little beach that looks like a paradise, and is isolated from the vices of Pattaya itself, and has a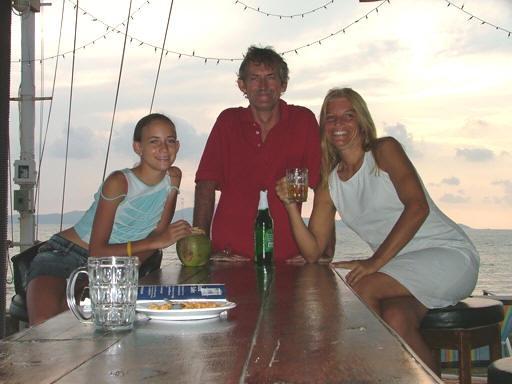 an excellent restaurant. This year an impressive New Years Party was organized at the Club with salsa music, cocktails, buffet, fireworks and a bonfire. We launched the paper hot air lanterns which will bring us good luck next year, the year of the dog.
The Beach Bar of the Yacht Club, with no music, which is such a relief after noisy Bangkok. In most supermarkets and shopping malls the noise is deafeningly loud, which does not seem to bother the Thais at all.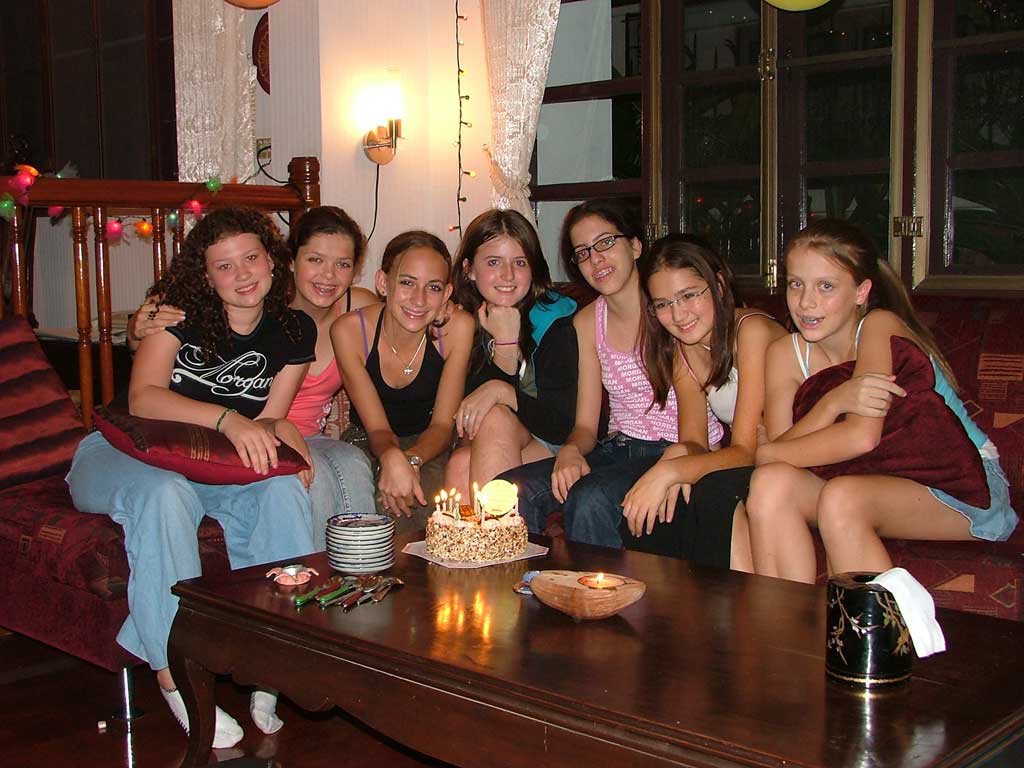 Laura turned 14 years and is attending year 9 of Patana School. She invited a group of girl friends to her birthday party. First they went to the new Harry Potter film and then to our house for dinner. Everybody stayed for a sleep-over. Laura enjoys going to school (she was just promoted to a higher maths group) and has lots of friends. After school she is doing hiphop dancing, netbal and Dutch class, and the latter not for the fun of it.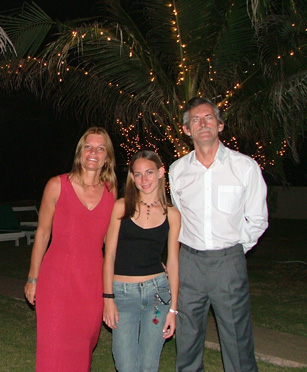 This picture was made by Minke's mother at Christmas that we celebrated in Dolphin Bay Hotel, just south of Hua Hin. Please note the tailor made attire Kees is wearing, made by the same hands that dress the presidents, diplomats and spies of this world. Thanks to Laura who got a prize at a singing contest. Just like all previous years Minke's mother came to Bangkok for a couple of weeks with bag full of presents and Dutch delicacies. Every year by the time she returns to The Netherlands, the plants in the garden look much better! This year she returned to The Netherlands earlier, because the baby of Minke's sister is seriously ill. Our New Year wishes and thoughts are with them and we hope that little Kris will get stronger soon.
Our new year resolution is to write of phone more often. You are of course always welcome to stay with us here in Bangkok. As the Thai say: "Phop Kan May", see you again.