Kees, Minke en Laura wish you all a very happy New Year 2014!
Life is pleasant; in the summer we spend our days in the Netherlands and Spain, and winters in Thailand. Minke is working again as a teacher at an international school and thus only has six weeks of summer holidays, but Kees is taking full advantage of his retirement status.
The political status in Thailand remains uncertain, with two antagonistic parties currently showing no signs of compromise. Former yellow shirts are sour about having lost five elections in a row to former red shirts, and through mass demonstrations forced the government to dissolve while refusing constitutionally required re-elections. It is a unique phenomenon in the world for mass demonstrations to be demanding that democracy should be abolished. The redshirts don't want to again lose their democratically earned power through a coup. The economic damage, just like the last time with the occupation of the airport, is enormous. Meanwhile, the daily Islamic bombings and killing in the south continue.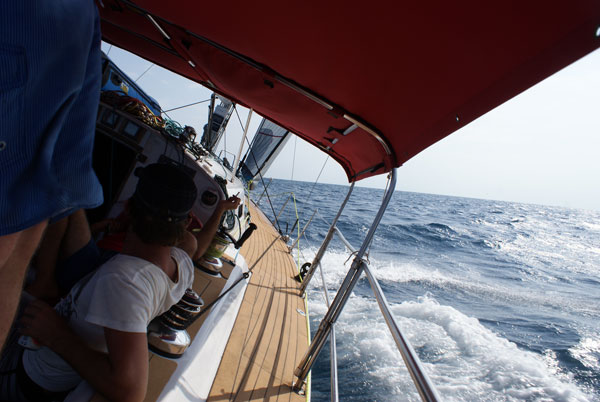 I am now crew (the mainsail's my job) on the Siren, a 42-footer that is so fast that we always arrive first, but also has such a handicap that we never win any prizes. We did none the less come in third in the 2013 competition at the local yacht club. This photo is of us crossing the Gulf of Thailand, a 32 hour sailing trip, to participate in the Samui Regatta. Under my fellow crew members are a few oddballs, whose nicotine and alcohol consumption on board particularly is inappropriate, however there are also several good companions.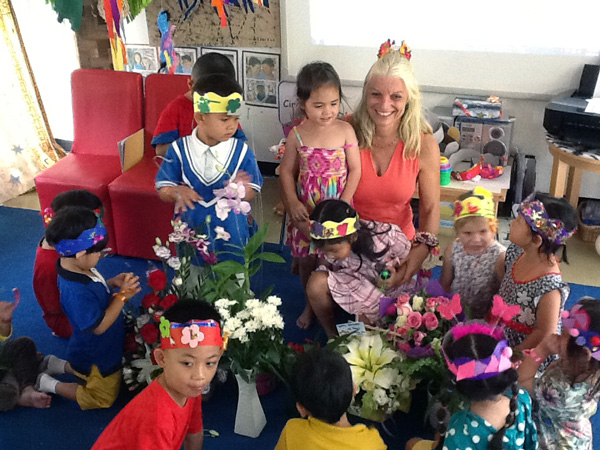 For the second year now Minke is working as primary teacher at St. Andrews International School Rayong, half an hour drive from our house. This picture is on her birthday when her colleagues and students organized a rainbow party for her, and she got many orchids for in our garden. The school is currently being accredited with the International Baccalaureate Programme. Because of this Minke had to do a workshop in Singapore, and there will be another workshop this January at her school. Although there is still much work done and though Minke is not always convinced of the usefulness of the required paperwork, she enjoys her job, has decided to stay another year and looks forward to working towards the accreditation with her colleagues.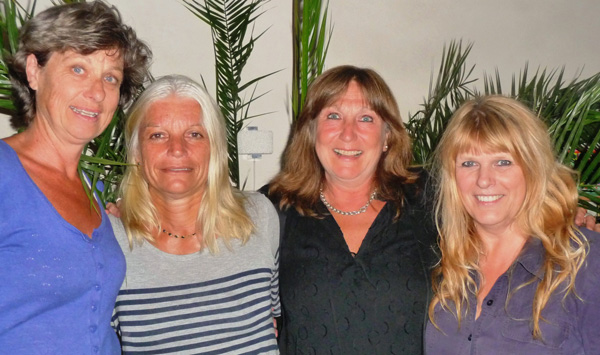 It is not always easy, but this summer Minke managed to meet and catch up again with Anne-Mieke, Sonja and Stans. They are getting dangerously close to 40 years of friendship! In October Frank and Barbara visited us in Thailand, though sadly the sailing weather was not ideal. They did manage though to enjoy a few sporadic days that the DS car worked (partially). We see each other regularly in Spain, enough to build the tradition that the person who leaves from holiday last provides breakfast. Minke's mother Paula has still visited us every year, including this one. She was pleased with the fact that it has been abnormally cold in Thailand in the past weeks, with morning temperatures in the low twenties. Together with her and Laura we spent a few fun days in Chaing Mai where we also celebrated Christmas. Chiang Mai is further north and the Thai felt that it was so cold all the street dogs were dressed in custom made jackets, which the dogs in turn did not seem to mind. We always wanted to have a trip on the Mekong and this spring we did for two days. We travelled by slow boat from Huay-kwang Xai in Thailand, to Luang Prabang in Laos. It was a relaxing trip with a night in a small village on the banks of the river. The scenery was spectacular and the banana trees, shrubs and flowering trees at the end of the first day were just as spectacular the following day.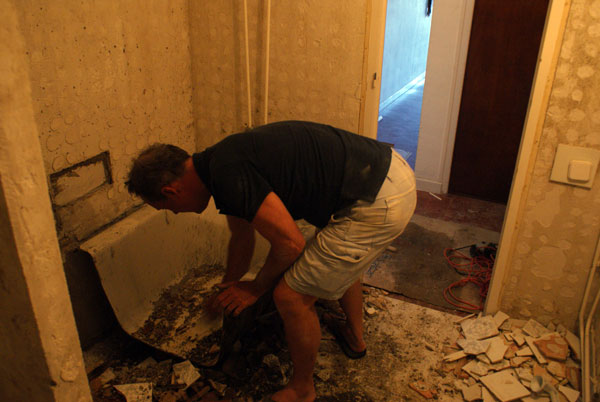 Kees and Frank together enacted an episode of 'Neighbour and Neighbour' in Spain when rebuilding the house's 45 year old bath room. It turned out very well if we do say so ourselves! It was hard work, particularly the cast iron bath resisted stubbornly and even appeared to be a supporting structure for the house. We ensured that some authentic vintage elements of the bathroom were incorporated in the new design. Spain's economic situation is dire, which is reflected on the desperately low selling price of the apartments. The waiting list for the Nautical Club has also dissolved, and there are noticeably less boats on the beach. On the bright side, Spain has not yet seen the Russian-tourist invasion which is occurring here in Na Jomtien! There is an ever increasing tourist infrastructure forming around our house with water parks, amusement facilities and sky scrapers encroaching on our compound.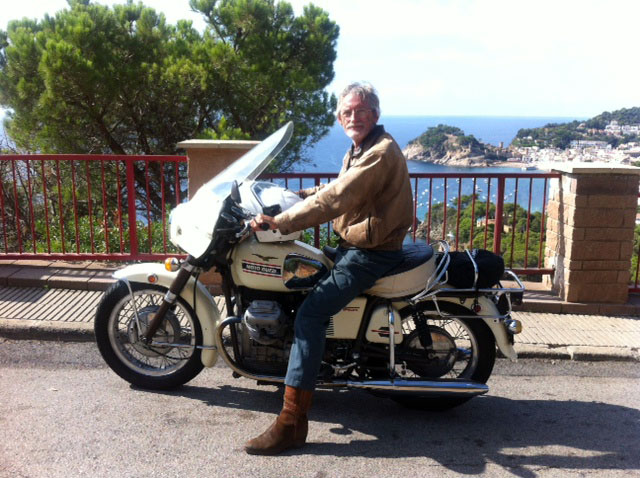 The Moto Goudsi tank was completed in Thailand where it was straightened out and chromed. After a few test rides that all went disastrously, I left from the North of The Netherlands and, after a free coffee at IKEA in Arnhem, to the trainstation in Dusseldorf with an average consumption of 1 to 20, and arrived by noon next day by sleeper train in Spain. There I happily drove around Ibiza for a week, which was surprisingly similar to the Costa Brava. In this photo, I'm at Europe's most photographed view points at Tossa de Mar. Yes; wearing the same boots as 30 years ago... they still fit!
This year Laura will do well in her Bachelors degree and will graduate at the end of January 2014 in Maastricht, at the UCM. The exchange last year to Sydney, Australia was such a success that Laura decided to do her Master there.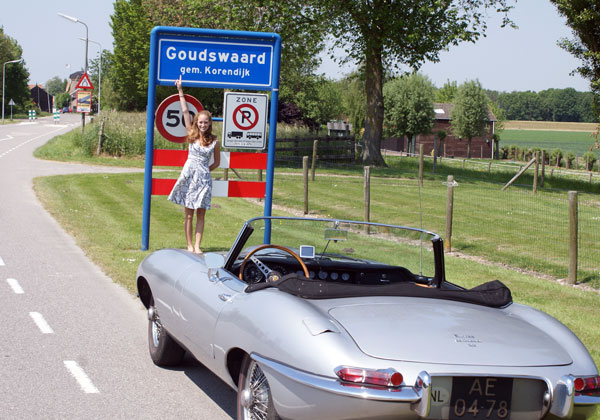 Next year she will start her Masters of Public Health at ANU, which means travelling directly to Australia because their academic year starts in February. That her boyfriend Oliver will also be doing his Masters Down Under might have played a part in the decision! Though the logistics within our family will not be easier, we can imagine that Laura sees her immediate future in Australia rather than in the Netherlands. Laura's friend Johanna has also completed her Bachelors in Middelburg, and is now searching for her roots in Japan. On the way to Johanna's graduation we took a detour to what may be our own roots; the town Goudswaard!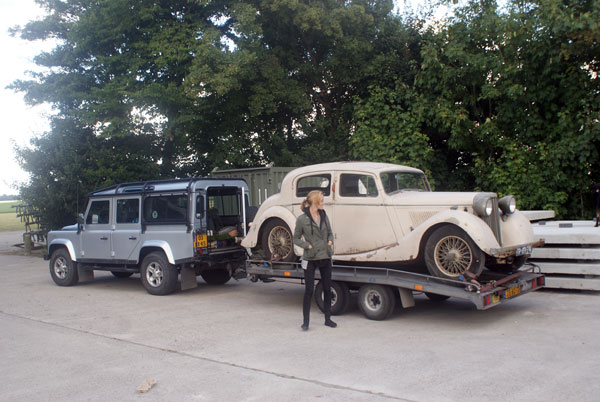 No one stopped Kees and his collection was this year expanded with an authentic barn find; a Jaguar from 1946 with its original linen Dutch registration certificate. The hybrid car (pre-WWII design; metal chassis but also many wooden parts in the floor and doors – not only rust but also woodworm is causing hardship) should keep Kees of the streets for the coming years. The shuttle connection between Warmenhuizen and Na Jomtien is again efficiently shuttling all sorts of parts which need to be fixed-up and re-chromed.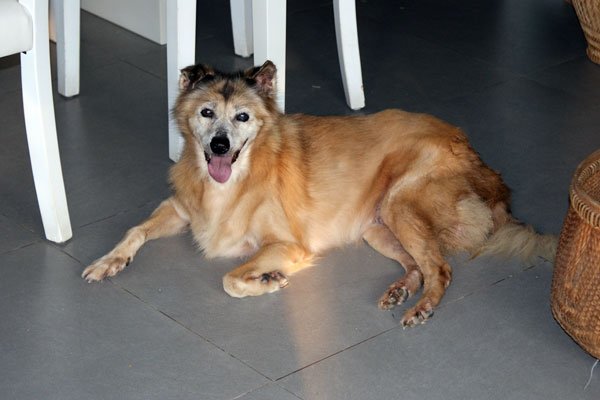 Our stubborn but very lovable dog Banjer passed away this year which was very sad after she was part of our family for 16 years. We console ourselves by believing that she has had a long and happy dog life. Samak wanted, while swallowing a tear, to bury her in the garden "so Laura can also still see where she lies".