In Thailand, it really looks like our housekeeper is retiring this year. It will be disappointing that for the first time in 20 years, we will have to squeeze our oranges ourselves in the morning and that we cannot just leave the house to travel without having to close the door behind us. Samak plans to return to her village where she has built a house in recent years and where she will spend her retirement years with her dogs and cats.
The covid measures in Thailand are generally followed with much discipline. Face masks are worn outside, temperature checks in stores, and free covid boosters were given in the National Indoor Stadium near us where both Thai and foreigners could sign up and take a jolly selfie after the injection.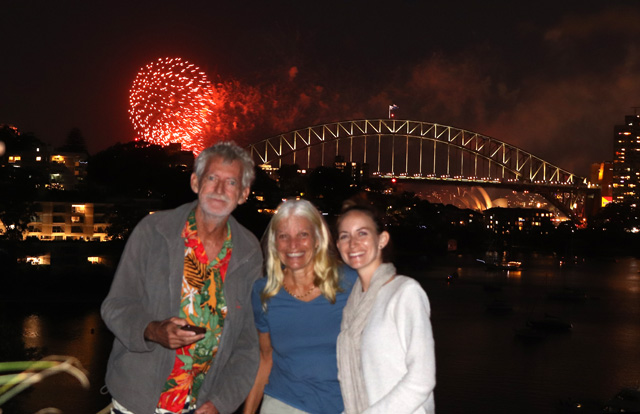 We managed to apply for a special permit to enter Australia and spend the Christmas holidays with Laura. There was a lot to celebrate with a gin and tonic: Laura's permanent residence visa, her new job as a researcher at the health ministry, her thirtieth birthday, and the purchase of an apartment. Unfortunately, all three of us did have to stay in quarantine for a few days over Christmas because the results of our COVID test did not come through. Near Laura's flat we found a good spot on prime location to enjoy the magnificent Sydney fireworks.
We wish you a healthy 2022 from Sydney, and hope for some more freedom in the new year.